On a puddle jumper from Houston to Panama City a few days ago, I soaked in the incredible views. I usually pick the aisle seat, so I'm not often a window-gazer. But this time, in that tiny plane, 6A was both aisle and window.
Pale blue skies and soft clouds felt like pure gift. Like, here you go, girl, here's some inspiration for you. An energy jolt in the midst of adversity and fear. Rest your eyes here. Store this 3D reminder of just how crazy-beautiful our little planet is.
Way better than the scene in my head
The view was a perfect match for my gratitude to be heading from Los Angeles to help my family. Because Hurricane Michael punched them and my whole hometown hard.
My parents had no power, no water, no phones. Though a few texts to and from my dad had gotten through. No internet to find out how to get help.
And after my elderly mom had just come home from three and a half weeks in the hospital. With my elderly dad with a wrecked knee as her caregiver. In L.A., I'd lie in bed at night imagining him out back keeping his generator going. Trying to feed her. Her on a walker back and forth to the bathroom. Extension cords everywhere.
With a hole in the roof, an upstairs window blown out, and more rain coming. (Later, I saw my dad's genius move: he had painted "need tarps" all over what was left of his white vinyl fence.)
Yikes, right? I had to get there.
And grateful for so much
Four days later, I'm done trying to take photos and video that show the devastation and adversity all around us. And it's dangerous to try given thread-the-needle road conditions. Time to focus on what inspires me instead. Time to focus again on what I'm grateful for.
I'm feeling all that as I drive the clogged streets and highways between Panama City and the beach, where there's power and water. So thank you again! to everybody who helped by donating to my GoFundMe campaign.
It means so much to me and my family. More to come soon.
xo,
Teresa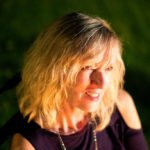 Teresa Young wants you living your dream, for real. She coaches by phone, in person in Los Angeles, and via Skype outside the U.S.