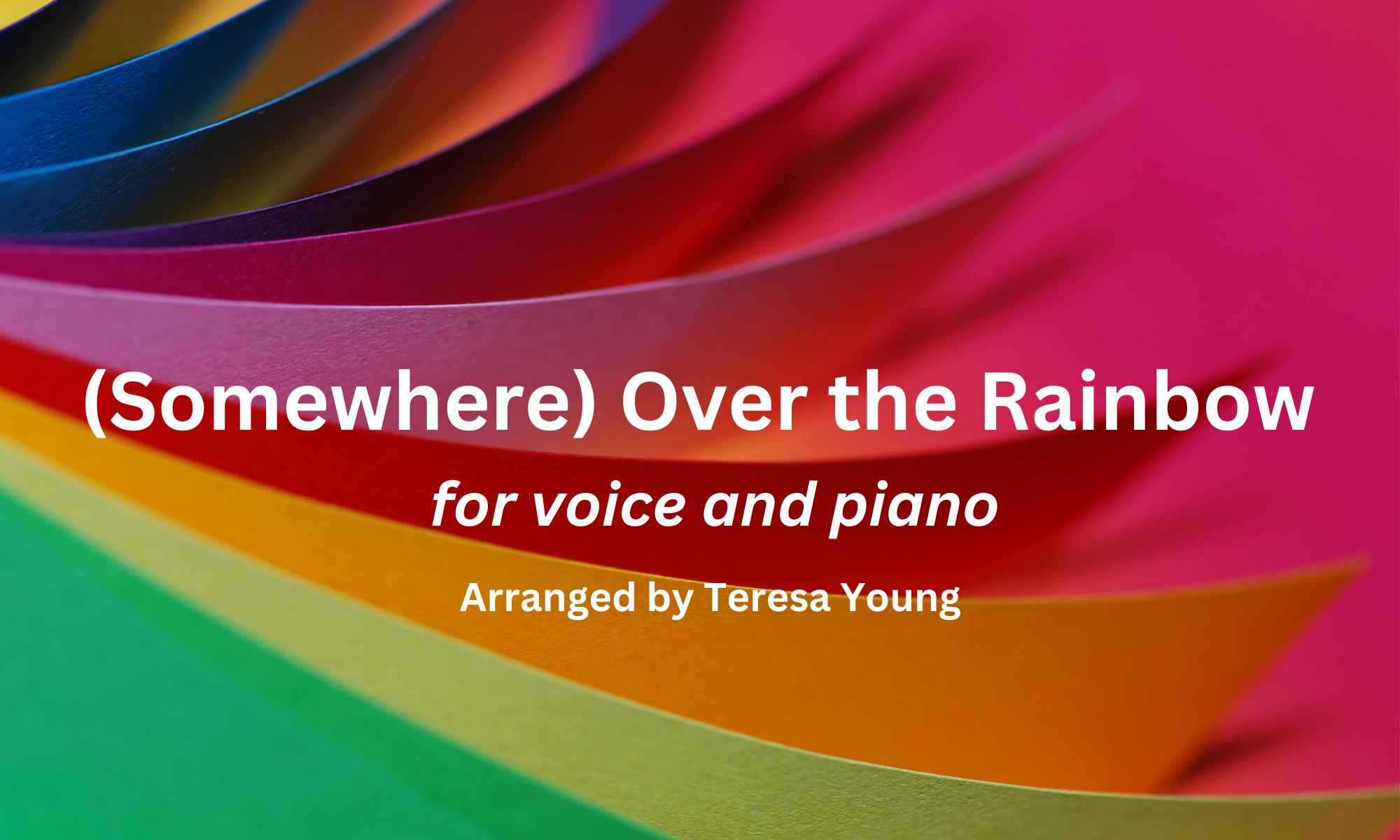 Over the Rainbow (piano & vocal)
Teresa Young's two piano/vocal arrangements of Somewhere Over the Rainbow (from The Wizard of Oz) are for talented young singers and their accompanists. They each showcase the singer's ability to carry the melody without doubling in the piano part. One arrangement is in Judy Garland's key of Ab, while the other one, for higher voices, is in the key of C. As a recital piece, either will no doubt elicit some tears.
Preview and purchase 

Over the Rainbow

 in the key of C here. 
Preview and purchase
Over the Rainbow
in Judy Garland's key of Ab here. 
Contact Teresa for an online lesson on this piece here.
Product Details
Artist
Judy Garland
Composer
Harold Arlen, E.Y. "Yip" Harburg
Format
Digital Sheet Music
Pages
4
Arrangement
Piano & Vocal
Arranger
Teresa Young
Teresa's growing collection of published sheet music includes a wide range of genres and skill levels.
You'll find pop, rock, jazz, traditional, and sacred pieces in her collection, from Steven Universe, Billie Eilish , LP, and Marina to Bob Dylan, The Moody Blues, David Crosby, JVKE, Lou Reed, Miles Teller from Top Gun: Maverick, Frank Sinatra, and Psalm 126!
So keep checking back here for more.
Arranging music has become a central pleasure in Teresa's life. So be sure to check back here for more titles published regularly.
Or get in touch!
If you're looking for a favorite piece to interpret and not finding a version that feels right for you, get in touch with Teresa here to request a custom arrangement.
I shall take the heart.
For brains do not make one happy,
and happiness is the best
thing in the world. —Tin Man,
The Wonderful Wizard of Oz