While we were all reeling from the tragedy in Thousands Oaks last week, two more California tragedies, the Camp Fire and the Woolsey Fire, began unfolding. And here we are now, our shock even more profound.
Just back from Panama City, Florida, and Hurricane Michael's devastation, I'm a few weeks into processing an utterly life-changing experience for a community, for loved ones, and for those we don't know, won't ever know, but whose sudden suffering stops us in our tracks.
So I want to share with you a bit of what I'm reflecting on right now.
These stories are just beginning.
First, as these stories of tragedy gradually fade from "front page" news, they're really just beginning. The support that we can and want to give must continue.
That support can come in so many ways, from the deeply personal and truly sacrificial—a shoulder to cry on, housing help for displaced individuals or families—to the simplest quiet actions, like saying yes to adding a small donation to a grocery store bill. I had lunch with a friend today who advised giving directly to individual GoFundMe pages to have an immediate impact.
You need care, too.
And be aware of, be present to, your own pain. Be very, very gentle with and good to yourself and those around you. Consider this gentleness with self and others something you can control in the midst of so much that is out of control. In fact, see the beauty around you. Relish it. Reflect on just how mysterious life really is.
Yes, life is so beautiful.
I was struck over and over while in Panama City by gorgeous days, with weather-related tragedy all around us. By the incongruity of it all. Taking the time to reflect, rather than shutting down all that feeling, is important in finding our way through the experience of devastation. Take time to think. Time to feel. Everything else that considers itself so urgent will still be there.
In the process, in the wise counsel of the Dalai Lama, reflect on your own strength to carry on. Reflect on everything your own life is about. Everything you hope for. The point is to care for yourself toward helping to energize those around you. Your oxygen mask comes first.
Don't sugarcoat. Do offer hope. And rest.

If you're directly connected to those directly impacted by these tragedies, do empathize. And do remember to also offer encouragement. To offer hope. Trust your instincts on ways to help that don't sugarcoat what is in fact tragic, but that do align with that very human activity of carrying on. It's what we do. We keep going.
And on dark nights, in dark times, we need rest. We all need rest. There will be days and nights when we'll get it, days and nights when we won't. But keep giving yourself permission for it. For that oxygen mask. Nourish yourself toward nourishing others.
Thanksgiving matters.
As we come together next week around Thanksgiving tables of all kinds, let's be truly present to one another. One day at a time, one step at a time. Proceeding, with feeling. Finding our own loving way through tragedy. Finding our own meaning. It's what we humans do on this wild, ever poignant life journey. As we keep our own little light burning, it can help brighten the way forward for others. For all of us.
xo,
Teresa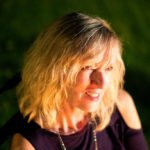 Teresa Young wants you living your dream, for real. She coaches by phone, in person in Los Angeles, and via Skype outside the U.S.