I wrote the first version of this piece after the November 2015 Paris attacks, then updated it in November 2018 after the tragedy just down the road in Thousand Oaks. Today, yet again, as all too often of late, we're trying to process our feelings of shock, grief, and horror after the Christchurch, New Zealand mosque shootings.

Horror can sap our strength
When we're confronted with dark events, dark forces, with terrible, even horrific experiences and images, it's natural and human to be blindsided. We don't ever quite become numb to it. And it's easy to fixate. To lose focus. To lose energy and heart.
Of course this is particularly injurious in dark moments. We can lose the vision of our way forward. We can lose the energy for anything. Our peace of mind, even our belief systems, shattered. Again.
Challenge and the way forward



In the thick of moments of terrible trial, consider that your shattered focus is, yes, still, a gift you don't have to wait for. This challenge is the way forward. As one world leader said during the darkest of times in the 20th Century:
If you're going through hell, keep going.
—Sir Winston Churchill
This guidance to forge ahead is right on in the fires of fear, pain, and the loss of simple human happiness. Loss of confidence in the next day or week or season for ourselves and our fellow humans.
Today I'm feeling an even more specific spin on this important counsel. It's something like double down on what matters most to you. Despite anything or everything. Stay focused, or re-focus, or begin to focus, on your highest priorities. Live your values. What you find most meaningful and beautiful.
Walk. Your. Path.
It's a discipline. Perhaps the ultimate discipline. Maybe challenging enough that you can't fixate on what would further darken your door and sap your body, mind, and spirit.
Another important wisdom-keeper says it this way:
Do not let the behavior of another destroy your inner peace.
—the Dalai Lama
Be as informed and present to world events as you feel is sustainable for you. Be active in creating change in ways that speak to you. Send your empathy and care telepathically to victims, families, and those struggling for life right now.
Donate money and other resources. Express yourself in whatever ways feel right, but try to do so while generating peace internally, rather than yet more conflict. Practice compassion, including self-compassion, and real self-care.
In other words, put on your own oxygen mask now, right now, as one way of counteracting understandable emotional paralysis in the face of horror. And continue moving forward on your goals in the ways that matter today, one foot in front of the other. And pace yourself in the process. There's time for all things.
In fact, take time to meditate, rest, and engage consciously in whatever helps to calm your spirit. Then you're helping to generate light that humanity needs at this critical moment in which we're all intensely connected.
Proceed.
Do your good work. Walk your path. And reach out for support that you need. In short, proceed, dear ones. Proceed.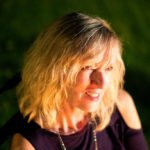 Teresa Young wants you living your dream, for real. She coaches by phone, in person in Los Angeles, and via Skype outside the U.S.