You want me to rock… life?
As a musician who became a coach, I regularly ask my clients this jammin' question, "So, are you ready to rock life?"
If your answer to my question is yes!, then the classic Zappa quote here may aid you. It states the fact of the uniqueness of each of us. And those who know about Frank will tell you he was a man who walked his talk.
Frank Zappa walked his talk.
As a musician/composer and provocateur during the Vietnam era and beyond, Zappa created his own rock life legacy of compelling, original music and acerbic social commentary. From genre-busting musical styles and types of ensembles, lyrics that took down all manner of sacred cows, and a lifestyle that was part of his art, he lived his truth. His own unrepeatable creative life.
Enter… you.
Enter this season of opportunity in your beautiful life.
Are you considering stepping off the beaten path? Marching to the beat of your own drummer?
I'm having fun with these cliches to reinforce the truth that the question of whether and how to live in a way that's unique you is oh, so human. And yet…
Read more of this scoop at www.oneideaaway.com.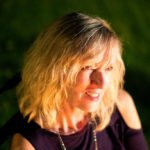 Teresa Young wants you living your dream, for real. She coaches by phone, in person in Los Angeles, and via Skype outside the U.S.