The quote above from sculptor Henry Moore made my night. I've been thinking a lot about the relationship between creativity and health. Reflecting on all the ways we creative types have to express ourselves and all the freedom we have to do so in modern life.
Though I'm not saying it's necessarily easy. If so, would it, as Kurt Vonnegut said about practicing any art, make our souls grow?
Perhaps, in fact, part of the deliciousness of the opportunity for creative expression is in meeting the challenges of any endeavor, media, or milieu. Be they inner or outer. Short term or long term.
And doesn't that sound a lot like the challenges and opportunities inherent in living a vibrant life? In truth, the point is really to be fully ourselves, and to act on whatever makes our hearts sing.
That means crafting a lifestyle accordingly. Honoring our creative lives and positioning them front and center.
And as Henry Moore said so definitively, the creative project of our lives is no doubt aided by believing in life. In the flow of all things. Beautiful, yes?
Hmmm. But… what gets in the way? Let me know. In my view there are no more fascinating subjects. And I'm here, in your creative corner.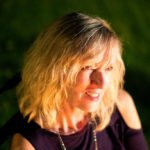 Teresa Young wants you living your dream, for real. She coaches by phone, in person in Los Angeles, and via Skype outside the U.S.