Have you noticed how we humans have good days and bad days, good moments, ones that don't represent our best, and everything in between? Are you 100% clear that it isn't just you?
Yes. Deep breath.
In living the life of your dreams, I invite you to get clear that Every. Single. Moment. is an opportunity to begin again. Are you on track, or off? How often do you step outside of all your automatic thoughts and feelings to assess that? It's a skill, like a muscle, that you can develop. It's all about practice.
Think of it as a healthy ritual that you can make a regular part of your empowered life.
If you know you're on track, jam on, managing all inner and outer challenges in the process. This management of all things works when you know you're on the path that's right for you, because there's inherent energy and inspiration in that knowledge that you can ride like a wave.
If you realize you're off track, congrats, first, on the accomplishment of that honest reflection. Pat yourself on the back for it, cheerleading your own progress, and assess further. What small or large shift will get you on your path again?
Then, armed with the results of your assessment, begin.
And know that, as in Ezra Pound's wise statement above, you're in very creative company.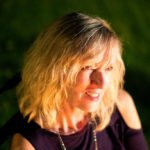 Teresa Young wants you living your dream, for real. She coaches by phone, in person in Los Angeles, and via Skype outside the U.S.