Ah, happiness. It's one of life's holy grails. Right?
Yep, we often seek happiness. Like distant treasure we're determined to find. Someday, somewhere, off in the hazy future, where the grass is greener and all our wishes and dreams have been fulfilled, then we'll "be happy."
But what do we really need to be happy?
When my oldest son went off to college, I realized that my dream for him was the capacity for happiness. Indeed, as I was letting go of my first little guy who had grown into a fine young man, nothing else I could want for him even came close. The truth is that I learned something about myself that day.
So today, what thoughts do you have as you consider these questions:

On a scale of 1 to 10, what's your capacity for happiness, today, with no conditions?

What will it take to move that needle?

What, exactly, makes you happy?

How can you live your life to fit that truth?
What's first, the chicken, or the egg?
So what really comes first, my dears? Happiness, or the conditions we think we need to meet to have it? And a bit more truth-telling from me will take us deeper.
Before my beloved mother got so ill last fall and Hurricane Michael struck as she was recovering from surgery, and before Panama City's medical community was punched hard by hurricane damage and she went weeks with little care and then died in January, I was really still putting conditions on my own happiness.
In truth, I was so driven! Always striving, working, and thinking. Planning and assessing. Improving.
Getting hip to happiness

These days, on this side of that crisis, the truth is that I'm finally hip to what it took heartbreak to teach me: it's all about love for me these days, my dears.
All about beauty. About kindness and connection. All about gratitude and wonder at the magnificent journey of life we're all living.
In fact, these days my new projects are joys like using my intuition and being empathic. Getting ever more present to Mystery and synchronicities. Less late-night writing. More stretching and walking. Way more meditating. More sleeping!
These days I see happiness, like the journey of life, as its own destination. After all, living—with all its twists and turns and ups and downs—is so precious. These days I just want to take it all in.
The journey these days

These days I say, with more passion than ever, the journey really is the destination. And more, our capacity for happiness doesn't need conditions. In short, I say snag happiness. Own it. Sing it! Be it. Then, by all means, with its glow shining all around you from deep inside you, go out walking the path toward what you want.
Yep, reach for it from there, like that. Be you from there, like that. Day by day, step by step, on the wild, wonderful journey of life.
Yin to yang and back again

And lastly for now:
Happiness doesn't mean no pain. No sorrow. Instead, these days I say being happy without conditions means accepting what is while we move through it.
Because we know living brings with it the whole range of experiences and emotions, from bright to dark. From agony to ecstasy. From yin to yang and back again. In truth, my dears, that's the gig.
So I say these days happiness is ours for the taking, while the Great Pendulum of All Things swings as it will. And so once again now, with feeling:

What, exactly, makes YOU happy?
xo,
Teresa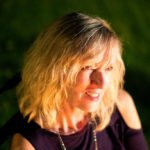 Teresa Young wants you living your dream, for real. She coaches by phone, in person in Los Angeles, and via Skype outside the U.S.