Processing… everything
I'm in Houston en route home, feeling like I'm back in civilization. Airport WiFi! Still intensely connected to what will be a long recovery process in Panama City after Hurricane Michael. There's plenty I can check on and text my father about on the iPhone I drove 100 miles to get for his birthday. That new communication channel helped me get on the plane.
Recovery will be slow for my mother, and for the town. For my father, too. He has worked himself to the bone. Not just since Hurricane Michael. And not just the month before that, after my mother's surgery. But for the past two years, when she was clearly ill but not yet correctly diagnosed. His health has suffered in the process. Anybody who has been through their own aging parents' tough times knows where I am now, with them at the threshold of overwhelming new territory.
Emotion, empathy, and encouragement
So despite my crazy-love for my beautiful life with Kevin in lovely Sherwood Forest, CA, and all the phenomenal clients and students I'll be thrilled to get busy with again, I had a terrible time leaving Panama City. Especially as my father and I agreed that I had to get in my car and go before we both broke down.
And I've experienced firsthand now how natural disasters are in the news for a week or two, then fade from view. The truth is that the recovery process is barely underway exactly three weeks out. The shock everybody is in is still descending. I heard dark threads of conversation all over that I had to empathize with AND interrupt with encouragement. The stages of grief are just beginning.
Blossoming in hardship
On the other hand, a surprising upside to this life-altering devastation has been my family coming together. And that's a big one. In fact this left coast liberal and those red state Republicans have re-connected in ways we haven't been capable of in many years.
My local brother Ken is kind of my twin on the planet, the big guy version born 364 days later. One day a year on his birthday we've always said we're the same age. He's former military, and about the time I started my own business he started his. These days the ace helicopter mechanic runs his own tractor company.
It was fun, if you can call any part of such a devastating situation fun, to watch him take a day for the second time to deal with our parents' ruined property. The first time he cut them out of a thick barrier of downed trees the day after Hurricane Michael struck. That was after trying three different times to get to them from twenty miles away. He had to turn back twice before he finally got there with extra water and a stash of gas for their generator.
The second time he worked to get everything—tangles of trees from their yard and a formerly wooded lot next door, all kinds of debris like siding, roofing, front porch overhead fan parts, mailbox—to the side of the road, where we think FEMA will take it from there. Seemed to me he was doing what he was about from the time he was pint-sized, pushing dump trucks around in the yard, being his energetic self in the world.
Day in the life
My brothers and I managed some beers and a party-planning conversation last Friday at an essential establishment of theirs that was running cash only and standing room only. Then we all headed in different directions in the nasty traffic that's status quo now. My former military/current security pro brother Michael, on loan from his work overseas, trekked back to our AirBnB townhouse out on the beach. Ken headed to his 70 acres in nearby Chipley, me to our parents' place right where the storm has wrecked everything. I had to smile as I was trying to find my car and saw Ken already rolling out onto the highway in his 50-foot rig, sporting one of several Caterpillar contraptions he works with. A day in the life.
Then yesterday as he was clearing our parents' lot, they lost water to the house again. Amazingly, somebody from the Water Department came right out and diagnosed an issue on the property side, underground. Since it wasn't at the street, it wasn't his problem. Next thing I knew, Ken was waist-deep in a hole, gluing something with a super-pro product Michael had snagged on command from the hardware store. And my parents had water again. Michael had already rigged up a little antenna that my dad got at Best Buy years ago, so now they can watch some TV. I fed everybody. That's been my thing.
Best birthday ever
Regarding Dad's birthday celebration, we did it. Unsanctioned by our parents, it went down, and Dad loved it. Two little girls in the neighborhood even brought over homemade peanut butter cookies. Impressive in the midst of the mess at hand! Though Mom didn't manage to rise from her bed to join us, she said she thinks it was Dad's best birthday ever.
And a note on the satellite image of Hurricane Michael here: just before I left, Ken learned that emergency responders had finally recovered one of Mexico Beach's destroyed weather station recorders. They learned then that it had measured sustained 160 mph winds with gusts of up to 201 mph. Good thing this storm moved fast or its consequences would have been even worse.
Tough stuff and temporary opportunities
Meanwhile, Panama City and larger Bay County have had two hospitals for decades. Hurricane Michael hit them both hard, and they're both still closed except for emergency services. Right now long convoys of troopers and sheriffs roll through town, sirens blazing, getting people to hospitals 60 or more miles away. (Do they transport one patient in each vehicle?) Moreover, on my drive to get Dad's phone I heard urgent requests on the radio for extra hospital personnel. Plus notices that emergency nursing certifications are temporarily available, something I've never heard before.
Most importantly, I'm grateful for the part I've been able to play for my family in this crisis. For everything I'm learning about natural disasters. I know west coast folks need generators to complete earthquake prep. (Think about multi-week power outages.) Landlines will be useless. You sleep and wake with the sun.
For now, back to my dear La-La Land
For now I'm so ready to get back to my deeply satisfying work. And I'll keep going back to Panama City every other month. My parents need help to prepare for and make immense changes. Get ready to sell that 2-story house. Is it time for assisted living? Can they agree on what's next? It's no longer a someday situation. For now one thing they do agree on—I keep asking—is that they won't be coming out to La-La Land. :)
THANK YOU AGAIN AND ALWAYS to everyone who helped us. As my niece Kyla says, "You have done something great." We'll never forget it.
xo,
Teresa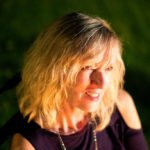 Teresa Young wants you living your dream, for real. She coaches by phone, in person in Los Angeles, and via Skype outside the U.S.