Mission critical:  get to Panama City
I'm in Houston right now on my way to Panama City. I'm feeling both anxious and grateful to all the people who are helping me help my family. Because Hurricane Michael just punched them and their whole community down to the ground last week.
My dad and one of my brothers have been texting me to prepare myself. "This place is ruined."
Von Miller said it right
I caught the end of the Broncos game with my husband Kevin last night. And I happened to hear Von Miller say they'd been relentless. That feels just right.
Because right now my brother who works overseas is relentlessly trying to find a new place for his wife and three kids to live. Their apartment building is damaged, and they have to leave.
My 82 year-old dad is relentlessly trying to get somebody, anybody, to patch a hole in his roof before it rains yet again. Meanwhile, he neeeeeds tarps! In fact, he painted "need tarps" in big black letters on what's left of his pretty white vinyl fence.
He's also relentlessly trying to get my very ill mother—in a temporary bed in the living room—to eat something. Anything. And my brother who lives in nearby Chipley is out relentlessly clearing debris from all kinds of wrecked properties.
It took him three tries to get to our parents 17 miles away. He brought water and more gas for their generator. Water and gas. That's what matters right now.
I've been relentless this week, too, finally finding a rare place on the beach with power where we can stay—and I can cook—for the next ten days. On the ground in Panama City, the couple who will host us are updating me hour by hour on their volunteer work at the local command center.
They've been amazing. "Let's get you some help."
This is life
While back in Los Angeles, my clients and students who I apologized to for leaving again said, "hey, this is life!" Over and over.
And that's because I was just in Panama City for weeks for my mother's awful surgery and worse complications. Hurricane Michael hit five days after I got home.
In fact, when Michael struck and I freaked out and started a GoFundMe campaign to get back there with funds to make a difference, most of my amazing clients and students contributed.
So thank you to all you angels whose help has me on my way back there right now. I'll never forget it. And I'll update y'all soon.
xo,
Teresa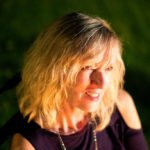 Teresa Young wants you living your dream, for real. She coaches by phone, in person in Los Angeles, and via Skype outside the U.S.