How can we find language for "everyday mystery" these days? And I mean in ways beyond all the old constructs that no longer ring true to us. That feel tired, or loaded. Or trigger us in ways we don't want. Poems are one way.

You can't know what I have to share
unless I tell you. I know,
I know, it's all loaded, the spiritual,
no way to cross that threshold with anyone
who hasn't opened—or who has closed
with good reason—
that door.
No way to offer that wine.
Or is there? Is noting a baby's breath enough,
or a dew-covered tomato shining
out of vined profusion
in the backyard, next to the fig tree
spilling its jewels?
But then those moments come,
like sudden lightning that clears the field
and jolts our hearts, too,
simple exchanges
that meet their mark.
That matter.
What will I see, feel, know,
contribute, and be fed by today if I watch
closely, present to the mystery
in everything? The question
thrills me. And
that matters, too.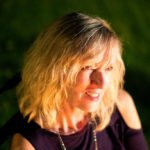 Teresa Young wants you living your dream, for real. She coaches by phone, in person in Los Angeles, and via Skype outside the U.S.